Diagnosing and Treating Cataracts at Dr. Dorothy Park & Associates in Columbia
Cataracts occur when part of the lens of the eye becomes cloudy or appears white. This occurs due to a concentrated buildup of protein in the lens, resulting in blurry or distorted vision. If you have the beginnings of a cataract or have noticed a recent change in your vision, our eye care professional, here at Dr. Dorothy Park & Associates in Columbia, can examine your eyes and provide you with the right type of eye care to help improve your visual acuity.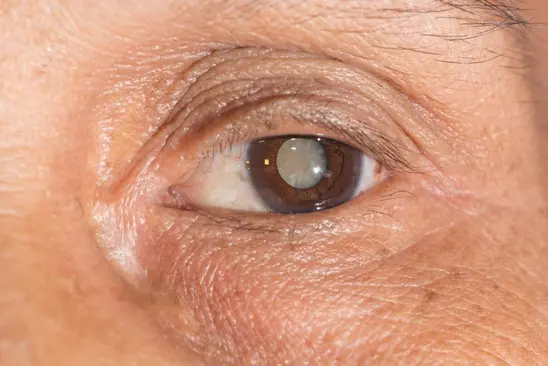 Symptoms of a Cataract
Cataracts tend to develop slowly over a period of years, which means you may not notice an immediate change in your visual acuity. As the cataract grows larger, you may notice that colors appear dull, and your vision is blurry. Additional symptoms include glare at night or reduced night vision and blurry or double vision.
Cataract Types and Risk Factors
The most common type of cataract is an age-related cataract. These typically develop after the age of 60. Babies are sometimes born with small, cloudy spots in their eyes. This type of cataract is known as congenital cataract. If you develop a cataract after a traumatic eye injury, it is called a traumatic cataract, and if you develop a cataract after an eye surgery, it is known as a secondary cataract.
Diagnosing Cataracts
Cataracts are diagnosed via an eye exam and visual acuity test. Our eye care professional will look into your eyes to see if any cloudy or white spots are visible on the lens of your eye. Next, she will perform a visual acuity exam using a Snellen eye chart.
Our eye doctor may also perform a dilated eye exam to check for problems with the back of your eye and test your eye pressure to determine if you have glaucoma. While these conditions do not necessarily cause the development of a cataract, they can be present along with your cataracts, especially if you have experienced an eye trauma or have eye inflammation.
Cataract Treatment at our Optometry Clinic in Columbia
Our Columbia eye care professional can examine your eyes to determine the size of your cataract and the degree to which it impacts your vision. A cataract that is relatively small in size typically only needs glasses or contacts to correct vision. If you have a large cataract that is preventing you from performing daily tasks or a cataract that is interfering with the treatment of another eye disease, like macular degeneration or diabetic retinopathy, you may benefit from cataract surgery. Our eye doctor can help you determine if your cataract only needs to be monitored or if you would benefit from having the cataract removed. If your cataract does need to be removed in the future, we can provide your post-surgery follow-up care.
To schedule an eye care appointment to have your eyes examined, call us at (803) 254-6306