Diabetic Eye Exams with Your Columbia Eye Care Professional
Regular eye exams are important for everyone throughout their lives, but they are even more important for people who have been diagnosed with diabetes. Diabetes, a metabolic condition in which little or no insulin is produced by the body, can lead to high blood glucose levels. These high blood sugar levels can have a damaging effect on blood vessels in the body, especially the tiny blood vessels in the eyes. Dr. Dorothy Park & Associates can provide comprehensive eye exams that include detection of problems cause by diabetes.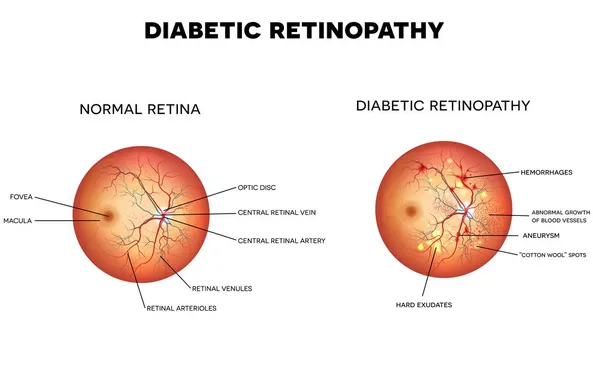 Diabetes Effect on Eye Health
Diabetics are advised to get frequent eye exams because of the effects of high blood sugar on the delicate blood vessels in the eyes. Diabetes can cause small changes in these blood vessels, which can result in a number of eye conditions, called diabetic retinopathy. The changes can be severe and can lead to blindness. When high glucose levels occur over a long period, the blood vessels may become swollen and distorted. Fluid may leak into the retina. The blood supply to the eyes can become compromised. New blood vessels that develop can become damaged, leading to bleeding and the development of scar tissue. These problems can eventually cause detachment of retina from the underlying tissue, which is a vision emergency. These problems can be monitored closely by your Columbia optometry can closely monitor the condition of your eyes and detect the changes that require early intervention to prevent vision loss.
What Your Eye Care Professional Looks For
As part of your eye exam, the eye care professional will use special devices that allow viewing of the internal structures of the eye. The eye doctor will look for balloon-like swellings in the blood vessels, signs of fluid leakage and any evidence of bleeding from blood vessels. The doctor will also look for scar tissue on the retina that could indicate signs of an impending detachment. Immediate treatment can help to prevent further damage to eye structures caused by high blood sugar. Your eye care professional will also determine if any of these issues are causing changes in your vision.
Contact Dr. Dorothy Park & Associates For Regular Diabetic Eye Exams
Eye Care Professional Dr. Dorothy Park uses her many years of experience in the field of optometry to provide superior professional care for her patients in Columbia, SC and nearby communities. We offer a full range of vision care services, including eye disease diagnosis and management. We are also available for eye care emergencies. Call Dr. Dorothy Park & Associates today at (803) 254-6306 for an appointment to have your eyes checked and to learn more about diabetic eye care.