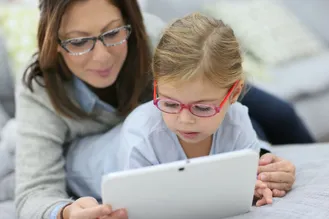 Taking your children to the eye doctor for regular eye exams is crucial to ensure they maintain their vision. During these exams, an optometrist can identify any vision problems and offer treatment promptly. At Dr. Dorothy Park & Associates in Columbia, SC, we are passionate about the health of your child's eyes.
We offer comprehensive eye exams to check if their eyes are focusing properly and test for possible eye diseases. If we detect an underlying condition, you do not have to worry. Dr. Park can provide the right treatment options before the condition advances to something more severe. We have put together a few common questions that we encounter when discussing pediatric eye exams.
When Can I Start Taking My Child for Pediatric Eye Exams?
You can take your child for an optometry exam when he or she is 6-12 months old. At this age, an optometrist can easily detect eye problems and provide treatment. After this first comprehensive examination, our eye doctor will recommend other exams at least once every two years. For children who use vision correction, eye exams are recommended annually or as per the doctor's instructions.
What Should I Expect During A Pediatric Eye Exam?
When you take your child to the eye doctor, we will ask a few questions about your child's health, like if he or she was born at full term and if there were any birth complications. We will also ask you if there is a history of various vision-related problems in your family and if your child has developed any vision problems before conducting the tests.
Can My Child Go to School After the Eye Exam?
Your child may go to school after the procedure if your child does not need urgent treatment. However, the eye drops administered to the eyes during the exam might cause light sensitivity, making your child uncomfortable. If your child feels very uncomfortable, you may need to let your child rest for a while before resuming school sessions.
Get Pediatric Eye Exams at Dr. Dorothy Park & Associates in Columbia, SC
At Dr. Dorothy Park & Associates, we are dedicated to providing high-quality eye exams and eye care for children. We will test their ability to read and how well their eyes are working together. We will also test if they have any vision problems and offer treatment as needed. We can also give you advice on how to maintain the health of your child's eyes. Call us today at (803) 254-6306 to schedule a consultation with Dr. Park.